Kilkenny Castle to Kilkenny City, Ireland is like the Eiffel Tower to Paris, France — it's the first tourist attraction that comes to mind when we talk about this medieval town. The grand 13th-century castle with a rolling parkland lies in the very heart of the city, overlooking the beautiful River Nore. It was a symbol of Norman occupation and served as a fortress against invasions. 
Today, Kilkenny Castle continues to attract hundreds of thousands of visitors from all over the world. The majestic castle is home to amazing exhibitions that tell the locals' admirable craftsmanship and a collection of fascinating stories. The castle also features a formal terraced rose garden, woodlands, a man-made lake, a tearoom, a playground, and picturesque parklands with mature trees and wildlife. 
However, we can't deny that there's more to Kilkenny than its postcard-worthy castle. The world outside of the grand edifice contains a wealth of heritage sites, natural wonders, and cultural attractions that have their own story to tell. 
Whether you're a tourist visiting Kilkenny for the first time or a returning tourist who'd want to see Kilkenny from a different perspective, this article is for you. Here, we'll list down 7 of the best ways to explore Kilkenny City and most out of your stay. 
1. Take it slow and have a laidback stroll
Kilkenny is renowned for its old-world charm, medieval history, stunning architecture, and rich cultural heritage. It's a very pedestrian-friendly city, with lots of IG-worthy spots tucked in its cobbled streets and hidden alleyways. And sometimes, the best way to appreciate a new destination is by taking it slow and discovering places with no tour guides or strict itinerary. 
Your adventure begins by booking a Kilkenny hotel in the heart of the city. By doing so, you'll have access to everything at your fingertips, from historic houses and museums to urban attractions like pubs, cafes, breweries, and shops. 
2. Plan a self-guided walking tour along Medieval Mile
Your Kilkenny City getaway will never be complete without exploring the Medieval Mile, a discovery trail that allows you to step through the centuries. Medieval Mile links the grand Kilkenny Castle and St. Canice's Cathedral, with lots of spectacular sites in between. You'll pass by historic buildings, well-preserved churches, and abbeys, museums and art galleries, cobbled streets, and hidden alleyways.
Here are top-rated attractions to include in your itinerary: 
Kilkenny Castle & Park

Butler House and Gallery

Kilkenny Design Centre

National Craft Gallery

St. Mary's Church

Medieval Mile Museum
Tholsel

Kyteler's Inn

Grace's Castle

Smithwick's Experience

Rothe House

Black Abbey

St. Canice's Cathedral and Round Tower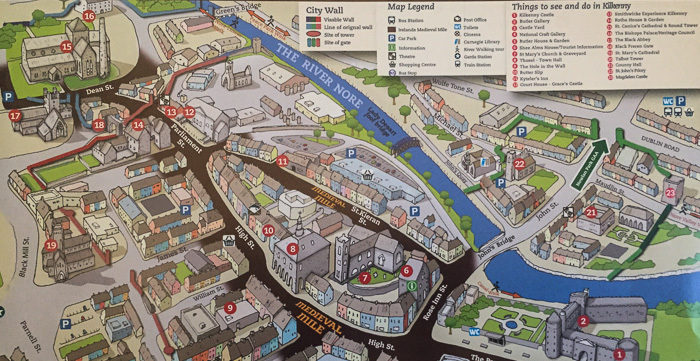 If you prefer a self-guided tour to explore the trail at your own pace, you just need to obtain a map and an audio guide, as well as a Medieval Mile Pass. 
3. Or check out the guided walking tours
Want local expertise in navigating the unfamiliar yet fascinating destination? You may also choose to have a guided walking tour (Kilkenny Walking Tours) if you wish. You'll be guided by our friendly and experienced historians, committed to bringing the stories and characters of Kilkenny's medieval history to life. 
There are free and paid options, with rates available for adults, seniors/students, and families. During the tour, you'll be taken through the must-see heritage sites, as well as the hidden streets, and laneways.
4. Sign up for a scenic bike tour (Kilkenny Cycling Tour)
Who says you can only explore Kilkenny on foot? If you love biking, Kilkenny Cycling Tour offers a variety of guided tours along the medieval winding streets of the city and around Kilkenny's countryside. You can also choose to hire a bike and have a self-guided tour, allowing you to ride at your own pace and see innumerable historical sites and natural wonders in your own time and sequence.
5. Explore the city centre via Kilkenny City Tours' Road Train
The quirky train wandering around the city is Kilkenny's unique approach to city tours. Kilkenny City Tours' Road Train, established in 2011, is a convenient way for visitors to see all the wonderful sights of Kilkenny. Departing from Kilkenny Castle, you'll be taken on a historical tour with a full commentary of detailed insights, facts, and folklore of the Marble City. 
6. Experience Kilkenny Nightlife
Kilkenny transforms into a different space after sundown, so don't assume you've seen everything during your day tour. After the darkness embraces the city, the vivid lights, catchy music, and unforgettable stories of ghosts and folklore take over. 
Hit the pubs for delicious meals and craft beers and stay a little late for the music. Step inside the clubs to party like a local. If you're in the mood for a different kind of socialising, you may sign up for pub crawls too. Combine that with a bit of mystery by checking out the ghost tours or haunted pub crawls. 
7. Marvel at the panoramic views from Brandon Hill
Want to see Kilkenny from a different perspective…literally? Well, if you don't mind hiking, we'll suggest you climb Brandon Hill, the highest mountain in County Kilkenny. It takes two hours to hike but all the sweat and tears will reward you with a perfect panoramic view of Kilkenny from a high vantage point. 
Author Bio:  Carmina Natividad is a travel and lifestyle writer. Aside from taking vibrant street photos, you can find her writing articles about travel, food, and lifestyle. To know more about hotels and travel blogs, you may visit Pembroke Hotel Kilkenny.